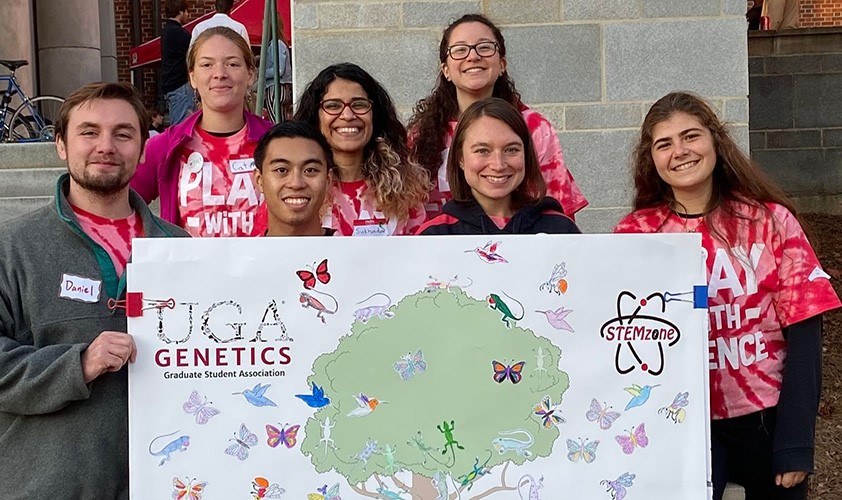 Department of Genetics Diversity Statement
The Genetics Department at the University of Georgia is committed to diversity in all its forms. We strive to cultivate an inclusive environment, and to promote the success of scholars of all racial and socioeconomic groups, religious and cultural backgrounds, gender identities, sexual orientations, national origins, and disability statuses. We believe all people deserve equity in education and that the best science is done with a diverse and inclusive scientific workforce. As a community of students, postdoctoral associates, staff, and faculty, we do our best as scientists when we bring together multiple perspectives to address fundamental and applied questions in genetics and aligned fields. We work diligently to maintain a department where all scholars can thrive, free from discrimination, bigotry, inequity, harassment, or violence of any kind. 
 
Genetics Committee on Diversity, Equity, and Inclusion
Andrea Sweigart (Chair), contact: sweigart@uga.edu
Jill Anderson
Mary Bedell
Meghan Brady
Alysha Higgs
Shaun McCann
Doug Menke
Michael White
Kafi Hamler
Alwin Rejimon
The Committee invites members of the Genetics community to submit comments, concerns, and suggestions related to diversity, equity, and inclusion here. These comments are anonymous and unless otherwise requested, will only be shared with members of the DEI Committee.
The Committee can be reached by email at gendei@uga.edu.
To report instances of discrimination or harassment, please contact the Equal Opportunity Office.
 
Links and Resources
UGA Programs and Organizations
UGA Resources
Outside Groups and Resources