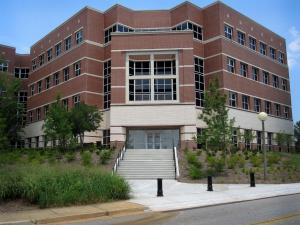 Contact the Department
Department of Genetics
Life Sciences Building
120 Green Street
University of Georgia
Athens, GA 30602-7223
Phone: 706-542-8000
Fax: 706-542-3910
Interim Department Head
Dr. Mike Arnold, Ph.D.
mlarnold@uga.edu
706-542-5861
To contact individual faculty, staff, and graduate students, visit our Directory.
Visit the Department
The Department of Genetics is located in the Life Sciences Building on South Campus.
The Hartsfield-Jackson International Airport (ATL) in Atlanta is the world's busiest airport and is only about a 90 mile drive to Athens.
Groome, an airport shuttle bus provides frequent service between the airport and hotels in Athens. Click here for the complete schedule.
The University complete driving directions. This University web site provides a number of maps, including an interactive campus map.
Maps
Parking
The Davison Life Sciences Building is in zone S07 and has an ungated parking lot on the east side of the building. S07 enforcement hours are 7 a.m. - 6 p.m. and parking is free after 6:00 p.m. There are 2 parking decks within walking distance of the building where visitors can park for a fee: the South Campus Parking Deck on South Lumpkin Street (near the Georgia Center Hotel) and the Carlton Street Parking Deck. These decks are marked S11 and S15 respectively on the map of parking areas on campus.  For parking questions contact Parking Services.
Lodging
There are a number of hotels in Athens. The most convenient to the Department is the Georgia Center Hotel located on the University campus. The department also regularly houses guests at the Holiday Inn, the Graduate Athens and the Hilton Garden Inn.
For more information, see the Athens Convention and Visitor's Bureau.